As colleges gear up to enroll a whole new class of excited students, we start thinking about how to combat the thorny phenomenon of "summer melt": college-intending students who take a step towards enrollment – such as accepting admission or putting down a deposit – but don't show up.
According to research by Lindsay Page et al., published by Harvard's Center for Education Policy Research, between 10% and 40% of students melt before the start of classes. It has cost individual institutions hundreds of thousands of dollars annually in lost revenues.
One of the key interventions to prevent summer melt is proactive personal outreach to students before college starts. As Page puts it, "personalized summer contact is likely to make students feel valued by the institution, which could increase their commitment to matriculating." Why personal? Because it conveys that the institution respects and values the individual, and wants that individual to belong to their community.
Nothing is more personal than a person's name, and taking steps to ensure we pronounce them correctly in those first interactions is critical to communicating that the student is valued and belongs.
At Xavier University, this was put this into practice by integrating NameCoach technology into their enrollment web application, called RoadtoXavier. Along with things like submitting medical histories and selecting meal plans, students are now asked to record their name as a checklist step, which sends the message from the get-go that the institution cares:

"Our challenge is making all of our students feel welcome, secure in their individual differences and effective in living and learning together as a community. Again and again we're reminded that people's names are a central part of an individual's identity."
David Mengel, Dean of the College of Arts and Sciences, Xavier University
(Read Xavier's full case study here.)
At the University of Dayton, NameCoach technology was leveraged not only in the first-year registration process, but also for admissions counselors talking to prospective and recently admitted students: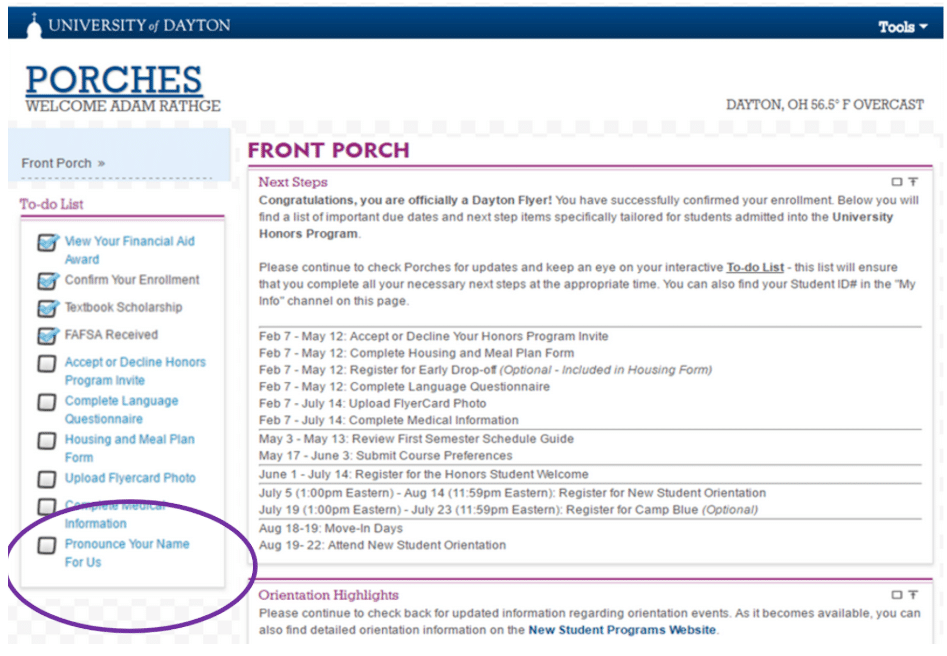 "We've installed NameCoach into first year registration, so before students even arrive, recording their name is a checklist item they must complete. Additionally, if admissions counselors are talking with a prospective or recently admitted student, they can be prompted to record the correct pronunciation on the phone using NameCoach's automated phone recorder."
Jennifer Creech, Registrar, University of Dayton
(Read Dayton's full case study here.)
Something as simple as getting a name right from the first interaction can be key in making efforts to combat summer melt truly personal. And although people from all backgrounds and ethnicities get their names mangled, this can be especially true for minority and first-generation students – which Page points out are some of the populations particularly susceptible to summer melt.
In a separate post, we explore the relationship between belonging, student persistence and success, and minority and first-generation students.
Feature photo by Uroš Jovičić on Unsplash
SaveSave